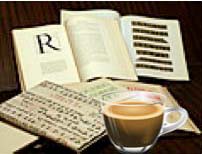 Writers are famous for complaining about their jobs.
I don't have a job.  I have an excuse.  Writing is an excuse.
See, being a writer gives you special license to do all sorts of things that normal people might want to do, but just can't quite come up with a justification for.  With writing, I already have that justification.  It's built in.  I'm working on a book.  I need to do research, and it is truly amazing all the categories research can cover.
Because I'm writing, I can travel to odd, off-the-map places.  You never know, I might want to set a book there.  I can go into every little, tiny local museum I can find and engage all the docents in long, detailed conversations about the house and the artifacts.  I mean, I might find a fantastic idea in there.  You never know.
I can spend hours looking at how things are made.  I can poke.  I can prod.  I can climb over and crawl under.  I can delve.  I can meet the raised eyebrows of all kinds of people and say "Oh, sorry.  I'm working on a book, and I was wondering…"
I can and have sat under cliff faces, or sit in the back in the dark of whatever theater I happen to be in, or in the shadows of a busy restaurant and watch the people who don't notice me go past.   I can linger in the food court in the mall, or in the park.  I can eavesdrop.  I can stare.
I can take up new hobbies, go to new concerts, try new foods and spend entire afternoons at new classes and lectures.  You never know.  I might learn something that will lead to new ideas.
I can go into every single old used book store, every single cardboard box at every single garage sale, every single library sale and buy any book on any obscure point of history, technology, science or geography that catches my restless eye.  I might need it one day.  You never know.
Those may be the three most dangerous words in the writer's arsenal.  I used to think the most dangerous words were "What if…" because those are the words that give birth to every single novel on every single shelf or in every single eReader.  But "you never know," are at the heart of the writer's working life.  You never know what you'll need.  You never know what will happen next.  You never know what you'll see, or discover; whether it's in the pages of a new book, or on the road, or in the mall.  It's exhausting.  It's exciting.  It can be frightening and sometimes a little depressing, because it never stops.  As a writer, you never do know and you have to live there whether always you want to or not.  You never do know, but you want to.  It's uncertainty and curiosity together make for creativity.  You never do know, but you want to.  So, you go and find out what you can, and you make up the rest.  The more you find out, the more you can make up, and the more you do make up and the more you make up the more you wonder about what you do know and the more you have to go find out.
So you have to go out again, and do, and listen, and see, and read.  I have to.  I'm a writer and I'm working on a book.
I have an excuse.