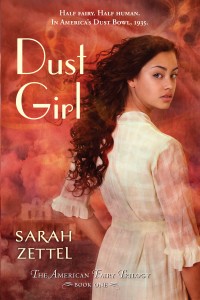 Callie LeRoux has lived all her life in small town Kansas.  She thinks she knows all there is to know about herself and her mother.  But with the coming of the biggest dust storm in history, Callie finds out there is much more to her family, her history and the world outside Slow Run than she ever guessed.  Secrets and magics plunge Callie into danger with only her own nerve and the hobo boy Jack Holland to help, and Jack has his own secrets that might destroy them both…
Book One of THE AMERICAN FAIRY TRILOGY.
Kirkus Reviews and the American Library Association agree!  DUST GIRL one of the best teen reads of 2012.
"This is a story of music and trains, racial tension and hunger, of endless dust-choked miles and cloudless skies, of all the majestic tapestry of Americans when we band together and all the pain and hate that keep us divided. All told in the strong voice of a girl who is a blend of all that and a bit more. Callie feels so real. You can feel her thirst, her fear, and the shame that people lay on her shoulders because her skin is a shade too dark. Even as she stretches her fairy wings, her words, her voice show you how grounded she is in her time, in her culture, and in this place."  — Alamosa Books –
"Zettel has created a story that is eerie, fresh, grimy, and full of meaning, and I ate it up." — Bunbury in the Stacks –