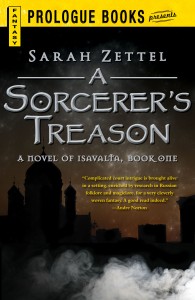 Available for the first time in ebook form, the complete Isavalta series from Prologue books!
A SORCERER'S TREASON Bridget Lederle keeps a lighthouse on the storm tossed shores of Lake Superior.  But what begins as a rescue, ends in an adventure that takes Bridget beyond the boundaries of the world, and into the deepest secrets of her past.
THE USURPER'S CROWN For Ingrid Loftfield, falling in love means losing much more than her heart.  Now she must travel to a new world to try to save the man who has won her heart, and the magical land he calls home.
THE FIREBIRD'S VENGEANCE caught between tragedy and desperate hope, Bridget Lederle must return to Isavalta, to risk battle agains supernatural forces she can't control, or be destroyed by a fate she cannot imagine..
SWORD OF THE DECEIVER A generation before Ingrid and Bridget arrive in Isavalta Princess Natharie of Sindhu must stand fast against the might of an empire and the power of its evil sorcerers to save her own land, her own life, and the man she loves.
All Titles Ready to Read on:
PRAISE FOR SARAH ZETTEL AND ISAVALTA
"Zettel achieves subtle effects, whether in the magical workings based on weaving or in the balanced understandings of her protagonists' motives…Romance readers should welcome this one as eagerly as fantasy fans."  — Publisher's Weekly –
"This is my first time reading Sarah Zettel but definitely won't be my last." - Lynn's Book Blog -